Nestled in a quaint Bavarian Village in the pristine Ammer Valley, surrounded by towering snow-capped Alps, lies Oberammergau, home of the world's longest running Passion Play. Based on a vow the Alpine Village made to the Lord if He would spare them from bubonic plague, the town has faithfully performed the Passion of Christ for the last 380 years.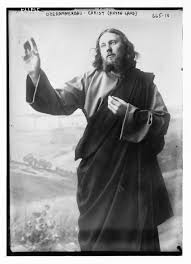 One rare exception came during WWII, due to rationing, poor relations with other countries, and most of all Hitler's conscription of adult males: The village's "disciples" and most of their "Israelites"–as part of the German army, were busily rampaging Poland at Hitler's command.
Today, the Passion Play cast is two thousand strong. Nearly every family in the village takes part in the play either on stage or behind the scenes–and has done for generations. Some roles have even been passed from generation to generation.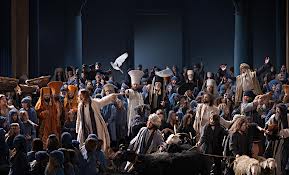 My husband and I attended The Passion in 2010 and were captivated by the villagers' commitment to and enthusiasm for the Passion and all it means. Certainly, it is a tourist industry. But, we could see that it is also much, much more and the residents take their vow seriously. After experiencing Oberammergau's portrayal of Christ's sacrifice for the world, I wondered how they had responded to the cruelties of Adolf Hitler and the Third Reich, which represented anything but the love of Jesus Christ.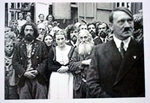 I was astonished to learn that this lavish production had been endorsed by Hitler in 1934 when he attended a special 300th anniversary year production.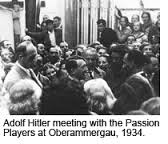 How was that possible when Hitler was so opposed to Christianity that he'd ordered the removal of crucifixes and pictures of Jesus from classrooms and churches–only to be replaced by pictures of himself? What about the portrayal appealed to Hitler?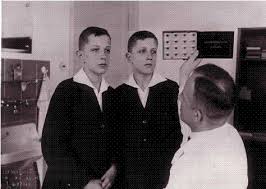 About the same time, I learned that the scheme to create a master race by eliminating blood lines deemed "unworthy" and by promoting others was not confined to the Nazis. All my questions intersected, and I wondered how we can prevent stepping onto such slippery moral slopes today.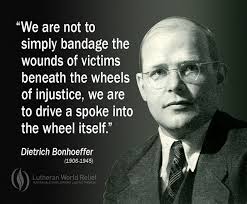 Dietrich Bonhoeffer, a WWII dissident German pastor and author of The Cost of Discipleship, gave me new insights into those questions. Those insights and Bonhoeffer's writings became key components of Saving Amelie.
From history, and a deep awareness that we all walk the conflicting line of doing what's right versus what's easiest or "best" for ourselves, Saving Amelie was born.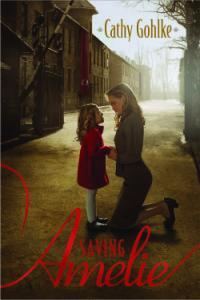 Saving Amelie is the story of Rachel Kramer, daughter of an eminent Long Island Eugenics scientist, who must confront her own pride and sense of superiority to rescue a deaf child–daughter of an estranged friend and of an SS officer–from "elimination" at the hands of the Nazis. Jason Young, a driven American journalist–and most unlikely ally–connects Rachel to the German resistance and to the work of controversial theologian, Dietrich Bonhoeffer. Together, they risk their lives–and ask others to do the same–for those they barely know but come to love. Saving Amelie is available in bookstores and on line.